How much you know about this cute little doll of Sandalwood - Anu Prabhakar? A heroine of several hit films who entered the Kannada filmdom in 1999 through 'Hrudaya Hrudaya'. Well, here is a little more about herself in her own words (viggy.com exclusive) …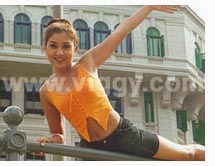 Which is your best movie?
All of my films!
Who is your favorite star?
I love watching films. So I like all stars. But my favorite one is Amitab Bachchan.
Whom do you like the most in your life?
All members of my family - my husband, my mother, mother-in-law, father, brother...
Who is your favorite director?
I worked with many directors. I enjoyed working with all of them. So no question of favorite.
Which is a memorable moment of your life?
The day when I married Krishna Kumar.
Favorite color?
Black, White and Maroon
Favorite costume?
Nothing specific. I wear saris, pant & shirts as well as salwar suits.
Your favorite place to spend holiday?
Bangalore.
Your favorite pastime?
Reading and cooking. I love cooking.
If not an actress what Anu Prabhkar wanted to be?
An airhostess :-)