The crisis of non-Kannada film screening in Karnataka is taking new dimension every day. After 47 cinemas halls shutting their shops on Monday, a meeting took place on Tuesday but no major outcome from the meeting. Here are the excerpts of the press note released by Karnataka Cinema Theatre Owners Association:
1. The current stand of Kannada Film Producers' association has forced our film industry to stay in poor condition by raising an unwanted language issue. Our research on the betterment of Kannada films shows that the condition our film industry will remain like this forever under the leadership of this organization.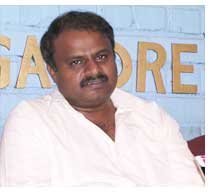 2. Practically, there is no difference between saying don't release non-Kannada movies and seven week moratorium of non-Kannada films. It makes it clear that the producers association and KFCC are inline on this stand. This is a major burden for all exhibitors including non-Kannada film exhibitors. And hence we are making sure that the exhibitors association and the members of this organization will not have any connection with the above said organization in the future.
3. Keeping the betterment and development of Kannada film industry in mind, we have decided to approach the government. The current allocation of Rs. 2 Crore in the form of subsidy is no way helping the industry. Therefore the entertainment tax of Rs. 33 Crores collected by the State Government from non-Kannada films should be completely utilized for the subsidy for Kannada films. This means, 150 films can get Rs. 20 Lakh each as subsidy every year. We will be submitting our request to the govt. soon. If the government agrees to our proposal, we are confident of bringing Kannada film industry to healthy track of development just in one year.
4. Government should take the initiative to create awareness among the filmgoers that the entertainment tax they are paying will be utilized fully for the development of Kannada filmdom.
Politician, producer, distributor and exhibitor H.D. Kumaraswamy taking charge as president of Karnataka Cinema Theatre Owners Association was the highlight of this meeting. Kumaraswamy during the release of his production 'Chandra Chakori' last year departed from Producers Association to start 'Kannada Film Producers Vedike'. He extended his support for simultaneous release of non-Kannada films in the state.
Another major attempt of this meeting was to unite the entire exhibitors' sector and shut the doors of all theaters irrespective what language films they are screening. There are 27 theaters in Bangalore that are screening Kannada films. But there were voice against this among themselves and today there are chances of them all meeting again.