Failed K.P. Pandey committee meeting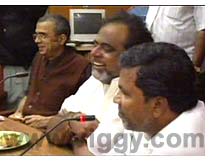 Stillborn three hour long meeting convened by government appointed K.P. Pandey committee today to resolve the prolonged moratorium issue, ended with no results. Headed by Deputy CM Siddaramaiah, today's assembly at Vidhan Soudha was expected to be the 'concluding' meeting but failed to make any firm decisions. It was disappointing for all who waited on their toes till the evening to hear the final outcome. This meeting witnessed the Dy. CM, KFCC President Gangaraju, Ambarish, Parvatamma Rajkumar, Rockline Venkatesh, Rajendra Singh Babu, exhibitors' federation chairman Odugoudar etc. Siddaramaiah said, "The meeting is incomplete today. Will be continuing it tomorrow again and will announce the outcome".
After the meeting, MP, actor Ambarish said, "All three sectors (producers, distributors and exhibitors) have their own problems. Unless those are addressed, its difficult to resolve the current crisis. I've recommended Dy.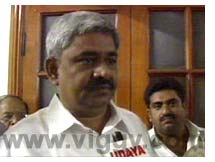 CM to have similar exercise I had with each sectors individually". Apparently, he opted out from being a mediator between KFCC and exhibitors association. After the stay order from the Supreme Court on Saturday, today's meeting was considered to be very crucial. However, the final outcome is still awaited after tomorrows continued meeting.
Chairman of KFEF Odugoudar who made a firm statement yesterday that from Tuesday onwards, new releases will continue as and when the prints are available differed his stand today! He said, "We will reconsider our decision". And hence, release of new non-Kannada films from tomorrow is doubtful.