It was a formal press conference on last Thursday evening at Hotel Chancery, Bangalore. What was 'special' was the event! Yes. The most talked about movie of the year - 'Jogi' officially went live on the Internet! Director Prem and producer Ramprasad launched the official website
http://www.jogi-thefilm.com
developed by viggy.com. It was heartening for us to receive compliments from people gathered there saying 'its outstanding'!
Its better be! Because, Jogi has become a household name with very high expectation! Ashwini Studios, the premier audio house, has an enviable track record in their domain. When such professionals venture into film production, it is a default conclusion that their debut offering Jogi, directed by Prem, will create history. The Ashwini brand, coupled with the most acclaimed young director Prem, has generated tremendous curiosity prior to its release. On top of that, the role actor Shivarajkumar played in Jogi is an apt fit to create further ripples. Music and other actors like Arundati Nag, Jennifer Kotwal etc are certainly the key factors to make Jogi a 'gem of a product'.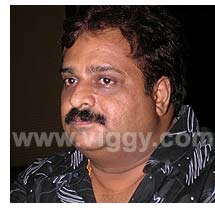 Unlike other conventional producers making a hullabaloo about their projects, Ramprasad has completed the production without creating 'unwanted' hype. But the trusted quality along with facts and figures does the magic on its own! Jogi has created an all time record in audio sales of over two lakh cassettes and 60 thousand CDs prior to the film release! Their earlier records were Kanasugara, Kariya and Aptha Mitra but it was after the release of their respective films. Whats more, for the first time in Kannada film industry's history, mobile ring tones of Jogi has fetched the producer a whopping 18 lakhs as advance royalty by India Times! These ring tones will be available with all leading cellular service providers and royalty of Rs. 1.25 will be paid to Ashwini per download! Music director Gurukiran rocks once again!
Jogi slotted for August 19 (Varamahalakshmi Festival), will be released in Karnataka and neighboring states simultaneously with 40 to 50 prints. Whats more, producer Ramprsad is even aiming at simultaneously release in the US! So stay tuned for a mega release of a trendsetter - Jogi!