36th International Film Festival is scheduled in Goa during 24th Nov. 2005 - 4th Dec. 2005. Three Kannada films will be screened during the course. Haseena and Beru will be there in the Indian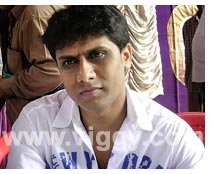 Panorama competition while Rishi will be screened under mainstream film section. Commercial hit films with good quality are screened under this section. There are 11 films from all over India and Rishi is one among them. Veer Zara, Waqut, Mujhse Shadi Karoge, Black from Hindi, Arjun, Anand from Telugu, Tirupachi, Chandramukhi from Tamil, Marathi film Navra Maajha Navshacha, Malayalam film Udayanenu Tharam are in the list.
Director Prakash who proved himself as a good technician during his debut venture Khushi has hit back last year again with Rishi. It was a classy family entertainer, which ran for 100 days in Bangalore. Prakash is trying to attend the festival at least the day when Rishi will be screened in IFFI. Currently he is busy with his new film Shree.