She has done enough and more sentiment, dynamic and love story movies and ruled the industry for many years. Yes, we are talking about Malasri who started her second innings with so called 'power packed' film Durgi. But unfortunately, in this film director Ravishankar (brother of actor Saikumar) is redefining the term 'power packed' as series of murders and pool of blood filled with intolerable violence! Was this the kind of movie required for Malasri to re-enter the big screen is a thousand dollar question.
Film has nothing special as such in terms of story. Its Durgi (Malasri) along with her granny (Jayashri) and schoolmaster (Avinash) taking revenge on villains who kill her sister and father. So it's a series of kills - Durgi doing it
for revenge, goons doing it to glorify atrocity! You see the kind of violence that's is difficult to digest by Kannada filmgoers but is pretty common in Telugu films. Chopping off the head of a Brahmin boy while doing rituals on a riverbank is an example of their action extravaganza! Durgi pulls the flesh out by thrusting a person's neck! She lifts and through the goons in air! Its her style! Thanks to stunt master Thriller Manju for those prolonged fights testing the patience at times. Film having six fights starts with a murder and end with the same. In between are the remaining eighteen kills!
Publicized as 'the biggest movie ever made on Kannada screen' this movie has the richness throughout which is expected in any Ramu Films. Also film has bunch of popular stars like Ashish Vidhyarthi, Raghuvaran etc. As an actress, there is no second word about Malashri's performance. She has done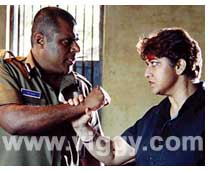 her best. So are Avinash and Ashish Vidhyarthi. Its Kalabhavan Mani who steal the show. Raghuvaran has lost his charm and peculiar mannerism. He looks a patient coming straight from his bed! Director succeeded to keep the matter secret till the interval; then goes haywire leaving many situations to your imagination. We strongly advise week hearted and sensitive people to avoid this film. But if you are the kinds who love programs like Crime Dairy or Crime Story, yes, Durgi is a feast to watch!
Direction:
Ravishankar
Producer:
Ramu
Music:
Hamsalekha
Cinematography:
Raja Ratnam
Cast:
Malasri, Ashish Vidhyarthi, Avinash, Kalabhavan Mani, Raghuvaran, Jayashri, Sadukokila, Ashalatha
etc