It is not an easy job to adapt new technology and methodology in filmmaking. Kanakambari produced by Shailendra Productions is a film that deserves a special mention; not as Dinesh Baboo's film, but it is the first movie filmed using digital technology. Thriller with a little suspense Kanakambari does not have anything out of the world in terms of story or concept but is viewable because of its presentation, style. Usage of new technology is a plus too.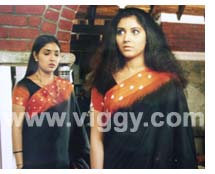 Movie revolves around a spirit of Nirmala Devi. How the soul evoked by a gang of mischievous college girls takes revenge on her death is all about Kanakambari. Why this spirit of Nirmala Devi (Vijaya Laxmi) enters the body of Nitya (Jyothi Krishna)? What is the relation between her and the house titled Kanakamabri? Who is this Nirmala Devi? etc lend adequate suspense and curiosity plus some haunting sequences.
Don't expect chilling horror nor nail biting suspense unlike in Hollywood horror movies. There are no scenes that increase your blood pressure. Still you wont feel bored. Thanks to Dinesh Baboo's brisk narration. Kanakambari should not be compared with his earlier films Suprabhata, Amrutha Varshini or Lalli however! Film has good comic relief. Full marks to Om Prakash Rao who reminds his father N.S. Rao in many scenes. Enagi Nagaraj, Mandya Ramesh and Dattanna too deserve a mention. Vijay Laxmi and Anu Prabhakar are apt fit for their roles. Though they don't have much dialogs, its their expressions which is more important in such flicks. Jyothi Krishna and Aryan Prasad form a good pair. Music by Praveen Rao is average.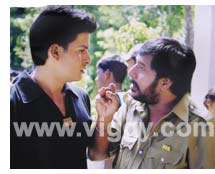 Director has taken good advantage of H.D. Camera. Night scenes shot using camera tricks does not look artificial. Also we cant really see the noise or the pixalation caused by the enlarged projection. So there is not much of quality difference between the movies shot using celluloid and this movie shot on tapes! However, the projector lighting plays a major role in such movies. Technically well made Kanakambari has turned out to be the first ever screened Kannada film that uses digital technology!
Direction:
Dinesh Baboo
Producer:
Shailendra Babu
Music:
Preveen Rao
Cinematography:
Dinesh Baboo
Cast:
Anu Prabhakar, Vijaya Lakshmi, Om Prakash Rao, Chitra Shenoy, Enagi Nagaraj, Dattanna, Manya Ramesh, Jyothi Krishna, Aryan Prasad,
etc