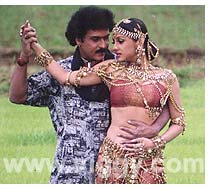 Crazy Star Ravichandran at last has come out of hangover of his dream film 'Ekanki' (Loner). His fans could not digest him as 'loner'. He is back to track now with his typical brand movie 'Malla' - an outright Crazy Star film. Malla has nothing new as a plot but Ravichandran shines as a technician by filling tasty, spicy and aromatic wine in old bottle with sparks of humor. He carries the film completely on his shoulder not just on the screen, even behind as a director with music, story, screenplay and dialogues without compromising in any of these departments!
Film is all about Malla (Ravichandran) - a florist, a Samaritan, soft natured person beloved by people; contrast to this is his son Shiva (Ravichandran) who grows-up in goons' abode; father who sacrifices his life for his son and at the end son taking revenge on the culprits.
Malla reminds his earlier films Anjada Gandu, Puntanja in some sequences. This film has everything from love to trust, affection, sorrow, action, cruelty, comedy and glamour to make Malla a tasty feast for all class. Known for unusual ideas and sets, he demonstrated them here too - he sleeps on a hand shaped bed made out of clay filled with his dearest friend's (Mohan) love!
Screen is filled with loads of flowers throughout to symbolize love and freshness! Ravishing Priyanka adds glamour! Umashri and K.S.L. Swamy as Malla's parents bring the affectionate touch. The way newborn Shiva was snatched by Malla's brother-in-laws reminds 'Kamsa' and Dwarake. Added to all of these is the composition of chilling climax stunt based on Kalaripayat - a traditional marshal art from Kerala.
Malla is a good comeback for Ravichandran in all aspects. Some scenes may be little difficult to digest for 'traditional' filmgoers. Mohan shines as an innocent, true friend. Apart from being glamour doll, Priyanka has done good job in acting department too. Ravichandran's son Vikram appears for a short while. Umashri and K.S.L. Swamy don't have enough scope in the film. Malla is a treat if you think films are for entertainment!
Direction:
Ravichandran
Producer:
Ramu
Music:
Ravichandran
Cinematography:
Sitharam
Cast:
. Ravichandran, Priyanka, Tejasri, Vijayakashi, Mohan, K.S.L Swami, Umasri, Laxman, Pavithra Lokesh, Shankar Aswath
etc