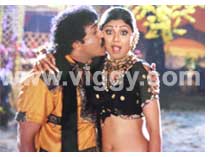 Ravichandran and Shilpa Shetty combo Ondagona Baa - remake of Telugu award winner Kalisundam Raa (starring Venkatesh and Simran), is a 100% family entertainer. Udayashankar has succeeded in making Ondagona Baa a good movie in all aspect. This combination of Ravichandran and Shilpa Shetty had already given a hit film 'Prethsod Thappa' and hence the expectation level was high for this film too.
Raghu(Ravichandran) comes to his father's native place with his mother and sister to attend his grandfather Raghavayya's (Somayajilu) Shastabdhi (60th birthday). He was not aware of any of his relatives and grandparents till that day because of a simple reason that his father Bhaskar (Bharath) was married to a girl against his father Raghavayya's wish. Raghu comes to know about the truth that it is because of his father Raghavayya's and his brother-in-law's (Doddanna) family was separated. Though Raghavayya dislikes his grandson, he gets a lot of affection and love from his grandmother (K.R. Vijaya). During the course he develops an intimate relationship with Belli(Shilpa Shetty) - granddaughter of Raghavayya but hesitates to tell this to his grandfather. He keeps the whole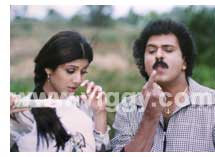 family in charm with his humorous behavior and manages to win everyone's heart except grandfather. Later he wins his grandfather too by joining dispelled families together. Family members, who are not aware of the love between Belli and Raghu, decides Belli's marriage with Doddanna's grandson. Raghu decides to scarify his love for the happiness of both the families. Whether Belli gets her love back? Will the united family continue living together etc forms rest of the story.
Ondagona Baa is a good family flick with decent music, tickling comedy, balanced mixture of happiness and sorrow. Ravichandran and Shilpa Shetty looks good without disappointing the film lovers as there was a high expectation on this combination. Shilpa Shetty looks gorgeous throughout. Though Ravichandran is in the lead, its Somayajilu and K.R. Vijaya who steal the show. Udayshankar got good hold on direction from the beginning till the end. Hamsalekha has scored some good tunes.
Direction:
Udayshankar
Producer:
Rockline Venkatesh
Music:
Hamsalekha
Cinematography:
Sitaram
Cast:
Ravichandran, Shilpa Shetty, Somayajilu, K.R. Vijaya, Chithra Shenoi, Charan Raj, Pavithra Lokesh, Vanita Vasu, Doddanna, Pramila Joshai, Tara, Shivaram, Rekha
etc