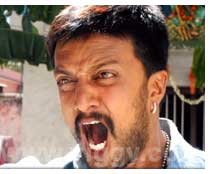 A peculiar mannerism of Sudeep, well-restrained direction by Yogaraj Bhat, thoughtful dialogs by Soori - all put together forms Ranga (SSLC), a complete entertainer. You can see shedding blood but its not violent. You can see crying hero in front of his mother's corpse but its not sentiment. You can see stammering villain but is not over comedy. You can see gorgeous heroine but is not awkward. You have everything but is not an overdose - that's Ranga - Ranga (SSLC).
Starting from dialogs which is a big plus of the film, every role here is so very characterized to create a whole new world at every scene. Director demonstrated a great level of maturity and promises. Film revolves around Ranga (Sudeep) who loses father at his teenage itself. Mother Paru (Umashri)
is everything for him. Ranga fails to clear his English paper in SSLC exam despite of repeated attempts and hence becomes Ranga (SSLC). This Samaritan runs an auto rickshaw for livelihood and meets Padma (Ramya)- daughter of a doctor (Bank Janardhan) belonging to a tradition family. This 'madam' soon comes close to the heart of Ranga. In the meantime Kunta Naga (Rangayana Raghu) comes out of jail who was under the wrong impression that Ranga killed his son. Its time for revenge… Ranga's mother dies in a blast planned by Naga's brother Kala (Maina Chandru). Soon the same gang thrashes Ranga to death. What happens to the heroine? You have to see the climax to believe it!
Ranga (SSLC) does not have any 'out of the world' story as such but keeps you on your toes till the end. It makes you laugh enough throughout. Whole film rests on the shoulders of Sudeep when it comes to acting department - be it an action scene, comedy, sentiment, innocence or romance, he steals the show completely. After a mind-boggling performance in Swathi Mutthu, Sudeep once again proves his hard work and dedication. Director Yogaraj Bhat got a complete hold on the ingredients of a commercial 'masala' movie.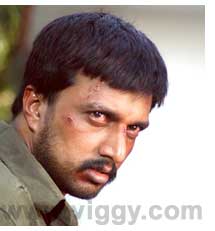 He maintains the speed throughout without a single dull moment. Every frame is complete with one or the other - may be action or comedy or sentiment. Ranga (SSLC) is good comeback for the director after his debut film Mani. Dialog writer Soori too has a lion share in the success. He portrays the roughness of the character through his dialogs at the same time he retains the softness or innocence of the same role - an outstanding job by Soori. Producer N. Kumar deserves a big pat for betting on newcomers and giving an opportunity to prove themselves. Added to all these are the performance of Ramya. Umashri has very short role but effective. Rangayana Raghu defines himself differently but his dialog delivery should have been a little easier to follow. Music by Sandeep Chowta has some local touch and three are real good tunes. S. Krishna has done a good job behind the camera. Overall, Ranga (SSLC) is perfect masala entertainer in all aspect; for all class!
Direction:
Yogaraj Bhat
Producer:
N. Kumar
Music:
Sandeep Chowta
Cinematography:
K. Krishna
Cast:
Sudeep, Ramya, Rangayana Raghu, Umashri, Maina Chandru, Nagashekhar, Sanjana, Bank Janardhan
etc