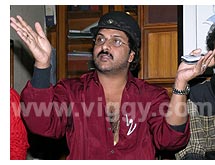 One of the most talked about Kannada movie 'Aham Premasmi' is at last hitting the screen this week. It was a dream of a dreamer and Ravichandran made it come true. He wears multiple hats of a director, music director, writer, and actor apart from being the producer! His aim is to create another Premaloka with this massive project that took five long years to complete. He wants 'Aham Premasmi' to be the jump board for his brother Balaji's film career.
Ravichandran is one of the best technicians Kannada film industry has ever seen. There is no second word about it. And this dream merchant has put in his best in all aspects to make it a perfect entertainer - be it the exotic locations, mind-boggling sets or first ever used digital color grading in Kannada. Over the last five years, this film has gone through several revisions and the finished product will be in front of you this Friday!
Arthi Chabria counterparts the lead actor Balaji. Apparently Ravichandran too has acted in this movie. But as what? That is a suspense to be watched on the screen! Balaji is already acting in one more movie. However, the success of 'Aham Premasmi' will decide the fate of Balaji. Lets wish them good luck and support the dream of trailblazer Ravichandran.