The proposed 'total shutdown' of Kannada film industry from yesterday in protest against theatres defying the informal three-week moratorium is concealed after CM Dharam Singh assured to find adequate solutions. All activities of Kannada filmdom will hence continue without any hurdles. Dy. CM Siddaramaiah is expected to hold a meeting with the three sectors of the film industry again today (Dec.2). In yet another development, KFCC and Exhibitors Association have asked the Kannada film producers for three more days to conclude on this on going issue. And hence, new Kannada film Joke Falls and Sardara are hitting the screen this Friday.
Joke Falls producer Atlanta Nagendra has comedown from the US exclusively for his film release. But the dilemma of Kannada filmdom kept everyone guessing. It would have been a real chaos to reschedule a well-planned release of Joke Falls. Its good that no one is affected now. So be prepared to laugh the roof off with Joke Falls directed by Ashok Patil. This comedy extravaganza is releasing in Kalpana and newly started PVR Cinemas.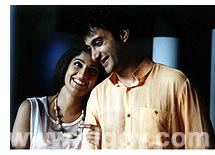 Ramesh Aravind is pairing Neetha in Joke Falls while car-car girl Deepali is the counterpart for Mumbai based young actor Dilip. Based on the threads of Hindi film Chupke Chupke, Joke Falls has many more contemporary, situational comedies throughout. Ramesh, a natural actor with many sensational comedy hits in his credits plays the lead role in Joke Falls that has music by Mano Murthy.
For more details check the official website
www.jokefalls.com
---
Sardara
- film of Darshan
The other movie releasing this week is Darshan Toogudeep starrer Sardara. Directed by P.N. Satya of Majestic fame this film is produced by Rajashekhar who was one of the producers of Partha. Gulrin Chopra is playing opposite Darshan in Sardara.