Success of a film depends on various factors - promotions, star cast, making and what's more, even the theaters! Unfortunately, Kannada film industry is facing a sever theater crunch presently. Though many films are in the queue, they are dumped in the box due to theater unavailability. Sudeep starrer Nammanna was supposed to release during Diwali but releasing this Friday (November 18)! The film also had to face censor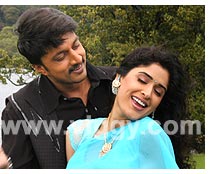 barricade. Without their clearance, no one is supposed to announce the release date. But due to communication gap, release date was published in their ads! However, the issue was resolved when producer Balamuttaiah submitted his apology letter to the censor board. Problem didn't stop there. They even asked the producer to re-shoot the climax portion as the dress color of Sudeep was green which resembles that of naxalites! There is no bylaw in censor book that talks about costume shades! Finally, the revising committee was convinced to pass it with minor cuts and they retained the climax as is.
Nammanna produced by Balamuttiah is the remake of Tamil film Anna. Sudeep and Anjali Javeri play the lead roles. This film is about a tribal youth who comes a city and gets into trouble. N. Shankar (from Andrapradesh) is the director and Gurukiran has scored the music. Avinash, Flora Shain, Kota Srinivas, Aravind, Mukhyamanthri Chandru, Sathyajith, Ghazar Khan, Kishori Ballal, Ashok, Sadhukokila etc are in the lead.