After a slow start in the beginning of the year, the momentum is picking with three films releasing this week! Most talked about young director Prakash's Rishi, Vishal Hegde's Olave and B.C. Patil starrer Zabardast are hitting the screens this Friday. While Rishi is a new movie, Olave and Zabardast were mounted almost two years back!
---
Rishi
- Prakash is back again...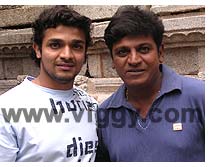 Rishi is the second directorial production for Prakash who hit the century mark in his very first venture Khushi. Featuring Shivarajkumar and Vijay Raghavendra in the lead, this movie is not targeted at any particular segment of audience but the whole family. It deals with the behavioral consequences of two people of opposite mindsets and its effects on the surrounding social elements. Sindhu Tolani and Radhika are pairing Shivarajkumar and Vijay Raghavendra respectively. Gurukiran's music for this movie is being praised by many as innovative and lively! Prakash has taken utter care in every aspect of the movie from production to direction to even costume design! Avinash, Doddanna, Rekha, Ramakrishna, Sumitra etc are among the supporting roles.
---
Zabardasth
starring Bhushan Kumar & B.C. Patil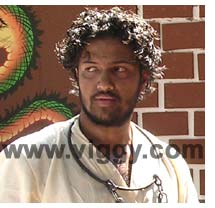 B.C. Patil is back with cop's uniform after a while. Though he is not the hero of 'Zabardast', he plays a key role here. Bhushan Kumar plays the lead role while he himself is the producer of the film. Rashmi Kulakarni is the counterpart for Bhushan Kumar.
This film is setting another trend of changing the director and the music director after all the works are done! That means, David who directed the movie with story, screenplay and dialogs is not getting the credit but it goes to Ram Bharathan Devan! Similarly, the music director Gandharva is not in the scene. Instead it is Ram Bharathan Devan again! This clearly shows the internal goof up Swastik Shankar, Sathyajeeth, Bank Janardhan, Shivaram etc are among the star cast.
---
Olave
starring Vishal Hegde
P.H. Vishwanath's directorial venture 'Olave' is releasing this week. Mounted almost two years back, this movie has Babu Reddy and Karunakar Reddy as co-producers. The title says it all… Olave is a love story film starring Vishal Hegde and Sandya in the lead. Though Vishal has acted in six films so far, there is nothing significant to his credit. Mane Magalu with acress Radhika was his last film. Olave has Hemanth Kumar's music and B.S. Shastry is behind the camera. Harish, Nagendra Shah, Lamboo Nagesh, Uma Rao, Baby Sheetal are among the supporting stars.