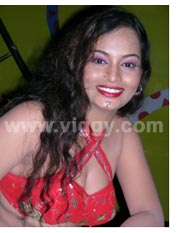 There was time when 'serious' filmgoers feel abashed to talk about Anuradha, Disco Shanthi or Silk Smitha; forget them watching the 'sexy' cabarets. But there used to be a separate 'class' of audience reserved for it! Off late, these dancers lost their charm as the heroines themselves started exposing skins to 'thrill' the audience! That became history soon when Bollywood started the new trend of 'item numbers' with starry-eyed, glamour-hungry girls with 'minimum' cloths stepping for the 'jhatka' songs. Soon this sophisticated term 'item number' became the norm in all language films including Kannada! As per a research, almost 22,000 Indian girls between the age of 15 and 22 are zealously trying to become an item girl on big screen without language barriers! So the producers started importing these 'spicy' chicks based on their pocket size!
If you see Sushmita Sen, Isha Koppikar, Kashimira Shah, Malaika Arora, Sameera Reddy, Yana Guptha in Bollywood, Junior Silk Smita, Abhinayashree (daughter of Anuradha), Mumtaz, Suja, Shwetha Menon,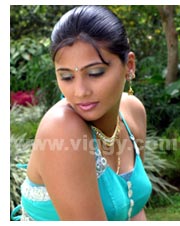 Daisy, Anthara Biswas etc attacked the South. Though it is difficult to count the total number of item bombs migrated to Kannada movies, keeping this craze in mind, most film directors and producers are trying to include at least one and sometimes two item songs in their movies. In last one month, two new girls have entered Kannada filmdom. Suja who is appearing in Yashwanth hails from Tamil Nadu while Daisy stepping for Encounter Dayanayak is from Mumbai. Daisy apparently is an assistant to Ganesh Achar who is choreographing for Dayanayak. Antara Biswas is the other girl who appeared in the first item number of Dayanayak. The way it's director D. Babu says, "These were called as cabarets in the past. Its 'item dance' now"! Naturally, new songs are being written and dances are composed in 'item-friendly' manner to cater to this fad.
Some of these girls have learnt dance just by watching others doing it! Needless to say, like the songs, which needn't have a sense of melody, item dances too have no formal steps! All they need is the willingness to 'expose' their skins. As a matter of fact, Suja dancing for Yashwanth has studies till 10th standard and Daisy till 12th! Daisy says, she wants to continue her career as an actress. But once branded for 'item numbers', its very difficult to come out of the whirlpool in any language. 'Kallaas' girl Isha Koppikar really struggled hard to get rid of the brand. Daisy must be aware of this fact if she is serious about what she says.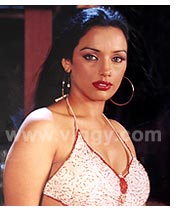 Kannada showbiz industry that was attracting heroines and technicians from the neighboring states so far has now become a target market for these 'item' bombs. Hence, you often listen to Hindi, Tamil and Telugu conversation to an extent of getting confused whether you are in a Kannada film set or other languages'! All filmmakers in their heart know that a film won't work purely on glamour but believe that they are creating a 'salable' film by introducing item numbers. One can only hope that this craze is a come and go phase like the double meaning dialogs. Until then, item girls will stay and item dances will play!