'Ranganayaki' Atarhi is in Bangalore from past few months. This time its not as an actress but as a director! She has completed the shooting of her directorial debut 'Mithayi Mane' for her husband Chandrashekar Desai Gowdar. Arathi's daughter Yashaswini has written the story that is about the sweet illusions of human life. It also shows the relationship between the powerful and the powerless and exploitation of kids. It throws light on how one manipulates the other in our society. Yashasini has based the story on a German fairytale Hansel and Gretel and blends the Indian puppet play as the introduction to the film. At the very beginning of the film the play familiarizes the audience with major elements of Hansel and Gretel, so that when they move along, they can experience the situations on screen and analyze their significance.
Here is a little about the Hansel and Gretel. A poor woodcutter has a son named Hansel and a daughter named Gretel. This motherless kids are ill treated by their stepmother. One day she convinces her husband to leave those kids in the forest. There they find a house made entirely of cakes and candies. It was a joyous moment for them. Only after entering the house they realizes that the house is a sweet illusion crated by an evil witch who eats children. End of this fairytale gives a nice massage. Always evils are punished and the good are rewarded. But its only in fairytales and not in reality. In Mithayi Mane you will see poor girl Ganga as Hansel and Gretel. Ganga, an eleven-year-old girl starts earning for the livelihood of her family members who are unemployed because of a prolonged drought. Ganga starts working as a maidservant in a well set family. Soumya, the owner, promises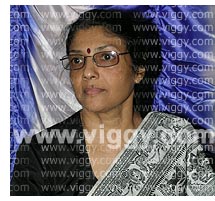 Ganga's parents that she will take good care of their daughter. But Ganga lives and works as a slave under the command of Soumya. She becomes the puppet of Soumya. The script links the story Ganga with that of Hansel and Gretel through visuals and English voiceovers at times. According to Yshaswini, there is a significant reason for using English voiceover particularly. In the film Soumya reads an English translation of Hansel and Gretel to her kids. As an urban mother sending her kids to English medium school and preparing them for a successful future, Sowmya would read to them in English. In India, as in much of the third world countries, learning English is considered to be a symbol of prestige and have access to money, privilege, power and dignity in society!
Arathi's Mithayi Mane explores the notion that the ordinary life cannot be separated from its illusions. Human beings build many Candy Houses (Mithayi Mane). But what happens when the candy melts? Watch in on screen!