Indrajith Lankesh - the magician who knows the pulse of today's youngsters used his tricks to pull them to cinema halls! His movie Monalisa has everything that is needed for a successful commercial film from sentiment to lots of comedy to glamour, item dances, stunt, exotic locations and specially designed cars for Car Car Huduga. He takes you on his roller coaster with full speed till the interval and it's the next part that takes the shape of old hit Eradu Kanasu!
Title of the film goes with the name of the heroine. She looks beautiful when smile. That does not mean her smile is that of Mona Lisa of Leonardo da Vinci. If this title is because of her smile, logically even Spandana would have been an ideal title as that is the name of Sada's second role!
Dhyan, an anti-arranged marriage youngster has the dream of marring an attire mod girl! At last he meets his dream girl Monalisa (Sada) and falls in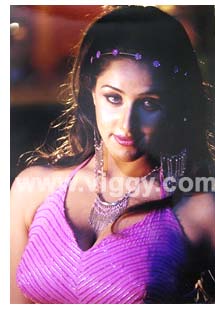 love with her. Who else can win the heart of a heroine - it's the dynamic hero rolling with skating shoes thrashing the goons! Monalisa leave the country just before Dhyan mention about his love to his mother. Soon he receives the message of her death. His parents (Ramakrishna and Bhavya) force him to tie knots to another girl Spandana (Sada) who is look-alike to Monalisa. Then onwards starts the movie 'Eradu Kanasu'. Dr Raj fails to lead a normal married life there, while here Dhyan fails to fulfill his responsibilities as a husband. Except the climax, it goes on the same track.
Its completely an Indrajith film till the interval. He has a whole lot of well-nested comedy sequences. Sharan, Ramya and Umasri keeps you on comic track. Director Indrajith's sense of humor deserves a special mention - you can see Tom and Jerry to glimpse of his sister Kavitha Lankesh's Preethi Prema Pranaya as a comic scene! A bunch of well-known faces like Shakila, Ruchita Prasad, Rekha (Chitra fame), Vanita Vasu, Darshan, and Durga Shetty peep in-between. So are the dupes of Upendra and Suchin Tendulkar. Babji-Sandeep have scored some good numbers. But two of them are remakes. Chori Chori is the remake of a popular song 'Nari Nari' sung by Nishan Abbas. And one can see the shadow of 'Dil Ding Dong Ding Bole…' of film Kuch Tho Hai in Car Car Hudga Banda song. Babji Sandep should have composed some new tunes to keep up the expectation.
Chocolate hero Dhayn is good in stunt, romantic and dance sequences but fails when it comes to sentiment scenes. Sada proves herself like in Jayam but she has the potential to be much more effective than what the director has elicited from her in Monalisa. Krishna Kumar's cinematography is a big plus for the film. Technically, Monalisa is a good movie. Indrajith has cooked the food with right ingredients that is apt for commercial film - is a magnet for young crowd.
Direction:
Indrajit Lankesh
Producer:
Dushyanth
Music:
Babji-Sandeep
Cinematography:
Krishnakumar
Cast:
Dhyan, Sada, Ramkrishna, Bhavya, Umasri, Sharan, Ramya, Akhila, Darshan, Durga Shetty, Rekha, Vanitavasu
etc