Not too often we see much hyped films releasing together. For the first time in 2005, this week will witness two action flicks vying for audience attention - Encounter Dayanayak and Ayya. Apparently, both are filmed on Khakis!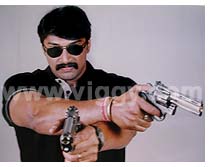 Much hyped Encounter Dayanayak is one of the Kannada movies in the recent past that was widely talked about for multiple reasons. Hopes are pinned on this biggie as this flick is based on real life story of super cop Dayanayak! Thanks to producer M.G. Ramamurthy for taking fullest advantage of publicity media. Directed by D. Babu, this movie is in a way a Bollywood movie in Kannada! From hero Sachin to Mahesh Manjrekar to choreographer Ganesh Acharya to item girls Daisy, Anthra Biswas, actor Deepak Shirke and Koushal - all from Mumbai! What's more, even the heroine Spoorthy hails from there! However, Mahesh Manjrekar known as a good technician, miserably failed in his recent Hindi flick Padmashree Laaloo Prasad Yadav. The way he says, people don't like to see him on screen!
Interestingly, ace actor Ananth Nag has a key role in Encounter Dayanayak. He plays an action role after several years. Actress Sumitra too has an important role to play. Encounter Dayanayak has R.P Patnayak's music, H.C. Venu's cinematography, Ravi Belegere's dialogue and story by Mysore Harish.
---
Ayya
- film of Darshan and Rakshita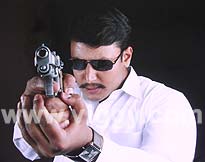 Another movie releasing this week is Ayya starring Darshan. Expectation obviously soars when a successful team comes back with a new product. Yes, after 'Kalasipalya' this is the second film for director Om Prakash Rao with Darshan and Rakshita. Darshan widely known as 'mass hero' for the first time wears Khaki. "No argument… Only judgment…" says this cop!
Such roles are pretty new to Darshan. Most of his successful films revolved around rowdism. People letdown Darshan badly in 'Namma Preethiya Ramu' though was well appreciated by film critics. He says "People liked heroism in my movies not the violent roles. So even if I play a cop role, being dynamic is where my success resides." So shall we hope to see Darshan roaring in his new avatar? His next is 'Shastry' and then Mutthappa Rai.
Ayya is produced by H.C. Bairegowda that has Ravichandran's music and lyrics. Avinash, Tarakesh Patel, Shobharaj, Swastik Shankar, Tara, Chitra Shenoy, Hema Chowdary etc are in the supporting roles. Anaji Nagaraj is behind the camera; Purushottham has penned the story and screenplay is by Ravi Shrivathsa.
Jootata - another movie slated for this week is pushed further due to unavailability of theaters.
Kannada film industry is thirsting for hit films, and hopes are pinned on these two movies. Will have to wait to see whether they lure the audiences to cinema halls.