'Audio market is not doing well' is commonly heard voice everywhere. If that is the case, how are these audio houses surviving and why new studios are mushrooming in every corner? Take the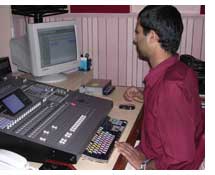 example of our own Bangalore. There are more than 7 well-known recording companies out there and innumerable small timers. If you look at it from a financial angle, is a tremendous investment to setup a full-blown professional recording studio with cutting-edge equipments and technology.
Ashwini Recording Company
is one such facility located in Bangalore.
Ashwini Recording Company headed by
Ramprasad
, a thorough professional was founded in 1985. This eighteen year old company has established a great deal of reputation not just among Kannada filmdom but also with industry professionals outside Karnataka. When asked about how you are different from the rest in the league, Ramprasad says, "Ashwini Recording is not just a sound recording studio. Unlike others, we have the company where we market a product." Completely digitized in 2000 February, Ashwini Recording Company is serving the audio and film industry as one-stop-shop for song recording to dubbing to re-recording and editing. More than 50 films got the audio solutions from Ashwini Recording so far and edited 12 films. Their massive facility spread across three buildings for different operations has the latest machineries with talented administrators and operators. Their core strength lies in the in-house
infrastructure. Equipped with
Pro Tools
and
Mackie D8B Digital 8-Bus Mixer
, their recording and dubbing rooms are well networked even for centralized online controlling and all of them have video projection equipments. Four such top class, specious recording rooms also have the facility for live orchestra. Their editing unit runs on Avid. Added to their production facilities are other services like discussion rooms and cafeteria.
Apart from wonderful infrastructure, it's the relationship Ramprasad built with the industry that is another plus of this company. Many top production banners here are like permanent customers for Ashwini Recording Company. This is an example of commitment and reputation he gained. More than renting the studio, their main business with film industry is project contract. When they buy the audio rights of a film, they involve in every stage from selecting the right music directors and singers - do everything needed to produce a quality product and market it! "Producing audio cassettes and CDs is not a big deal. But selling them is the biggest challenge" says Ramprasad. However, he strongly claims, non-film projects are his bread and butter. They have tons of non-filmy titles on folklores, devotional songs, light music and dramas. They are the first people to introduce Dhirendra Gopal's dramas on audiocassettes, he proudly admits. "We own the masterpieces of Kannada dramas including Banda Baddimaga, Mudukana Maduve, Sindhura Laxmana, Bus Conductor,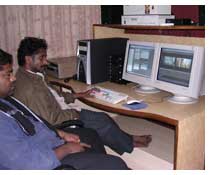 Mannina Makkalu and so on" said Ramprasad. He is very well aware of the piracy factors because of which no producer is coming forward to invest on audio and music. "MP3 has killed the audio market and added to this damage is piracy. Because of this, no one is venturing into audio rights. We are sustaining because of the non-filmy projects and strong marketing network throughout Karnataka from Raibagh to Bagalkot to Bijapur to Sirsi to Tumkur. You name the place and we have a distribution network there" Ramprasad disclosed the secret behind their success.
They have established self-reliance having their own people administrating every unit of production house - be it their re-recording unit or editing facility or dispatch. Ramprasad's sisters Chandra Narayan, Bharathi, his nephews Prashant and Praveen - all are qualified in their respective areas.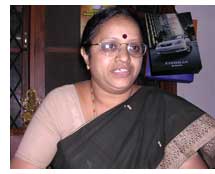 Their audio cassette and CD replication along with packaging unit is managed by Chandra Narayan. Ramprasad has come a long way to establish such landmark today. His dedication, hard work and commitment are reflected in every corner of their facility. His success is the result of clever decisions on identifying the projected demand and reacting to it timely followed by right kind of infrastructural investment, technological adaptation and cohesive, skilled workforce.