D.V. Sudhindra - a remarkable PRO
In today's competitive age, publicity is the key for everyone's success and survival - be it a manufacturing unit or a media house. Film industry is no exception in this regard. Today, none of the channels from newspapers to Internet are ignored. They realize that out of sight is out of mind. But was it the same
30 years back? Was our film industry giving adequate importance to media and publicity? There are only a few people to through light on this who has seen the Kannada film industry closely. D.V. Sudhidra, renowned as 'Suddigala Indra' who is associated with Kannada Film industry as PRO from past 26 years is one such esteemed personality. The founder of 'Raghavendra Chitravani' has worked for more than 750 films as PRO shared his experience and thoughts as PRO in an extended conversation with viggy.com recently.
D.V. Sudhindra had the hobby of watching and writing film reviews much before starting his career as PRO. During early seventies a few hobbyists of similar taste together formed a forum by name 'Lavanya Writers Forum'. In 1976, all the members of this forum decided to honor the producer Ankalagi on 100 days' completion of his film 'Baduku Bangaravayithu'. This small function organized at a cost of a few hundreds gave immense publicity to that film worth lakhs of rupees. This gave Sudhindra a break and he became a PRO for Ankalagi's second film 'Sose Thanda Soubhagya' with a small budget which happened to be the first cinema scope in Kannada. His next projects were Shrimanthana Magalu directed by A.V. Sheshagiri Rao, Vajramuni Production's Tayigintha Devarilla and other films like Pavana Ganga, Shreedevi, Madhura Sangama etc. Like this, after completing 6-7 films, he was introduced to Ishwari Productions by journalist Dwarakanath of Prajamata - a well known magazine of yesteryears. Sudhindra never looked back from then; became the media person for veterans like Dwarakish, M.P. Shankar, Chandulal Jain, B.N. Venkatesh, C.V. Rajan and so on. He is very proud to be the PRO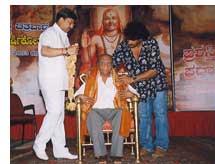 for many films of legendaries like Puttanna Kanagal, A. Balachandra, Maniratnam, Bhargava, Siddalingaiha, Girish Karnad, Girish Kasaravalli, Nagabharana, Nagathihalli Chandrashekhar etc. and the younger talents like Ravichandran and Upendra. He has very pleasant experience as PRO for many popular big banners in Kannada like Rajkumar banners, Dwarakish Chitra, Ishwari Productions, K.C.N. Movies, Bharani Films, Chandulal Jain and so on.
Sudhindra, a well-known name in the industry has worked for more than 750 films in the past 26 years. His nephews Venkatesh and Vasu have joined hands with similar enthusiasm and dedication. On the occasion of Raghavendra Chitravani's silver jubilee last year (2002) Sudhindra introduced an award from his organization - 'Raghavendra Chitravani Awards'. He believes, the film producers who give him bread and butter and the publications who publish his news are like two eyes of his life. He felt, he should do something to express his gratitude towards them and that's how he started these yearly awards. Last year he honored the producer of the film for which he worked as a PRO first and Dr. Vijay who wrote the first article about PROs. This year these awards went to Ishwari Productions banner and senior journalist P.G. Shrinivas Murthy. Apart from these two awards, from this year he introduced one more in the name of 'Yajamana Sheshadri' in association with thespian Vishnuvardhan. And Sunil Kumar Desai was awarded this time.
D.V. Sudhindra started his career as PRO when people were not too keen on publicity nor the medias were as advanced as today.
He has come a long way. Gained enormous popularity. All because of his dedication, effort and the faith he built-up. Today all big banners have his name attached when it comes to publicity. He received many awards - Kempegouda Award (2003), Prachara Rajakamala Hamsa, Aryabhata, Hamsa Jyothi etc to name a few. "Publicity is very important for any film till the time of release. Once released, should be good enough to survive in the competition. When I started my profession, there were hardly any channels for publicity apart from conventional media. But today with television and Internet being used widely, are the added plus for promotion and publicity for wider coverage" says Sudhindra. We at viggy.com wish Sudhindra and his team all the very best in their endeavors and hope to see Kannada filmdom reach national and international level recognition and publicity with the help of professionals like D.V. Sudhindra.
---
This interview in Kannada