Veteran actor K.S. Ashwath who was away from the industry for over six years is now back on big screen! He plays the role of a guru in Vishnuvardhan starer '
Sirivantha
' produced by Rockline Venkatesh. S Narayan directs this film. Ashwath was in town recently at the cassette release function of 'Mohini'. Here are the excerpts of an exclusive tête-à-tête viggy.com had with this veteran.
You were bedridden for quite sometime? How's your health now?
I had a stroke six years ago. I am all right now though my left arm and leg is a little week. I can't walk for long. It was quite disturbing and causing anxiety. But now I've overcome the worries and mental stress. Whatever is bound to happen will definitely happen. So I have stopped worrying about the future and I think that is the reason for my good health today!
How do you feel your comeback after six long years?
Nothing much has changed in these years. Usually I don't watch films and hence don't know much about the developments in the industry of late.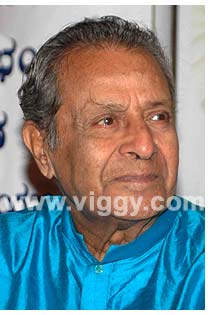 Do you think supporting artistes are not getting adequate importance these days?
Wherever the director has the final say, then certainly supporting roles get priority. In Puttanna Kanagal and S V Rajendra Singh Babu's films supporting artistes always had good and challenging roles. I remember a particular scene from 'Muttina Haara', which was critical and challenging. It was really tough to act in font of actors like Vishnuvardhan and Suhasini. But director Babu made it very easy. I also had a great urge to finish that scene with perfection. Later when the film was released, everybody appreciated my performance particularly that scene.
Acting is not a big deal. But creating such impressive and effective scenes is very difficult. Our filmmakers should realize that films are much more than glorified 'heroism'. Supporting artistes too are equally important to make a good film.
Are you satisfied with the awards and recognitions you have got in your career as an actor?
I haven't cared much about awards. Rather, I don't want an award! Wherever I go people recognize me as Chamayya Meshtru. What more do I want? Awards won't help when we are in trouble. It is the love and affection of people that really matters to me. Moreover I hate the idea of sending my bio-data for getting an award. It's okay if they recognize and give me an award. Otherwise I care a damn about awards.
What's your opinion about the changing times?
Lifestyle of people is changing faster and getting complicated. Generation gap is widening. We don't have any other go than accepting it.
Don't you think as a veteran your messages and ideas can make wonders?
What can I do? I'm just an artiste. I can give message through my characters and my films. That's all. I can try to educate people through films. Though I wish to, I can't do that outside of a film for a simple fact that it is beyond my control. There are people for that...