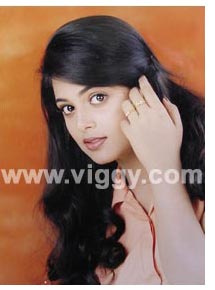 Sindhu Menon is a name well known among all four South Indian filmdom. She created a niche for herself in Kannada film industry despite of tough competition among young actresses. She entered Kannada filmdom as child actress though it was highly unexpected she says. Sindhu has 25 Kannada films in her credit. She is a Bharathnatyam dancer since from her childhood and during school days she used to participate in dance competitions. In one such competition where 25 other schools took part, she got the 1st prize. One of the judges there, noticed the inherent talent and introduced her to a Kannada film. Though her family base is in Kerala, Sindhu was born and brought up in Bangalore and she mingled with people here as a true Bangalorean. She acted in other South Indian languages including Tamil, Telugu and Malayalam. Film Huliya where she acted as a child actress received a lot of appreciation. She baged Tamilnadu and Telugu Academy award for Telugu film 'Trinetra'.
As a heroine, 'Khushi' directed by Prakash gave her satisfaction but Dhrama is her best she says. She played a Brahmin girl role there and she loved the boldness of that character. This film is due to release shortly. She has lots of plans in pipeline. Though she is a Bharathanatyam dancer, not been able to go for Rangapravesham due to her busy film schedule. But she certainly wants to make it one day and complete graduation too!
Sindhu who got name and fame in her very young age wants to go beyond silver screen. She intend to help people wants to learn but can't afford costly education. She likes kids and hence will be starting a play home during coming June. One more dream of hers is a film production. By the end of next year she aim to produce a female oriented film where she will be the lead. Sindhu is very choosy when it comes to selecting her roles. She rejected more than 30 Kannada films so far, as the story and scripts were not upto the mark. Right now two Malayalam films are in her hand. We wish this charming young talent goodluck in all her ventures and career.